On Sunday, November 11, the faithful and inhabitants of the San Antonio de Padua Parish of the Citadel Ibarra, participated in a special celebration of the visit of the Icon of the Virgin of Czestochowa in their community.
The occasion was  an opportune to bless a Grotto dedicated to the Virgin of "El Cisne".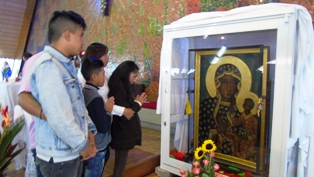 On Monday, October 22, Our Lady the Virgin of Czestochowa visited the Church of Our Lady of the Annunciation, located in the parish of La Mena in the south west of the city of Quito. The reception was given by the parish priest Fr. Denisse Yanangomez, who celebrated the Holy Eucharist and remembers the Holy Father Pope John Paul II.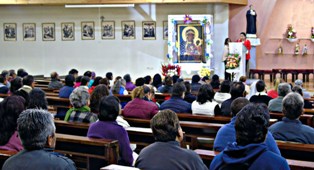 The Icon of the Pilgrim Virgin of Czestochowa continues to carry Her positive message that seeks mainly to defend life and family, especially after she was announced patroness of families throughout the world and to whom St. John Paul II had special devotion.
Promoting moral and ethical values, as well as defending life from conception to natural death, are just some of the goals and objectives that the new parish group of the Parrish Santa Maria de El Calzado will initiate. The name of this group will be "Our Lady of Czestochowa, the Pilgrim Mother of Poland".
The parish of Santa Maria de El Calzado is in a permanent prayer with the visiting Virgin of Czestochowa. Every day at dusk parishioners gather in an attitude of rejoicing, enthusiasm, devotion and faith to be able to share time with the Pilgrim Icon.