The Pilgrim Icon of the Virgin of Czestochowa ended Her visit in the Panamanian isthmus. She spent almost 10 months touring Panama City, Chitre and Colon. Angel and Carmen de Ruiz - a couple who belong to the Trinitarian Spirituality of the Children of the Mother of God were the custodians of the Icon.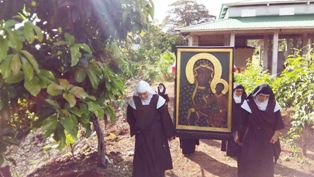 Praise be to Jesus. Dear brothers, we want to share with you the beautiful experience of having the "Mamushca" at home for more than three months ... It was because She wanted to stay, She felt very good, and we even more. She came to stay with us, a community founded here in Panama.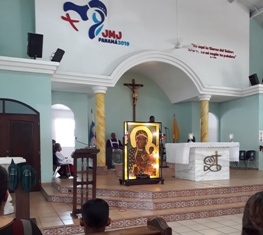 Since the World Youth Day in January, the Icon of the Virgin of Czestochowa is visiting different parishes of the Archdiocese of Panama.
In the words of Angel Ruiz Stecco, delegate of Fr. Francisco Verar and of the Archbishop of Panama, Monsignor Jose Domingo Ulloa, Her pilgrimage has been providence, since they have not insisted on making plans, but come to the parishes at special moments.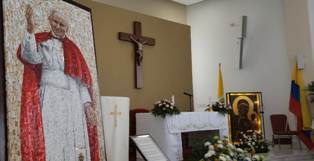 Panama received thousands of pilgrims for the World Youth Day and among them a group of young people from the Diocese of Arauca Colombia accompanied by Fr. Fabio Celi.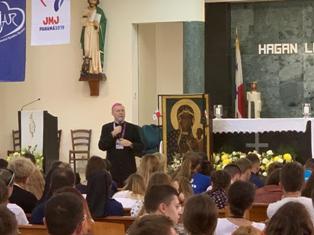 The Pilgrim Icon of Our Lady of Czestochowa arrived on Thursday morning of January 24, at the parish of St. Luke in the sector of Costa del Este, in Panama City, where the World Youth Day is being held with Pope Francis. The Icon arrived from the Parish of St. John Bosco in the sector of Albrook Mall, where She was the previous day in a Holy Mass with Polish pilgrims. They met for a special concert night that was called "From Poland To Panama".