On Monday, August 26 we celebrated the Feast of Our Lady of Czestochowa, precisely with the Pilgrim Icon in the parish that bears Her name.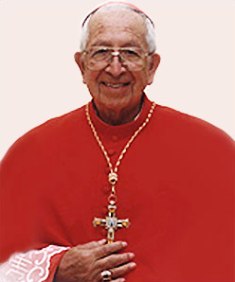 On May 13, 1981, Holy Father St. John Paul II toured St. Peter's Square in his papamobile blessing the faithful who gathered there. No one imagined that a renowned gunman would try to assassinate the Pontiff threatening his life.
Prayers to God and for the intercession of Blessed Virgin Mary for the life of the Vicar of Christ spread throughout the world. In Guayaquil, the archbishop at the time, Bernardino Echeverria Ruiz OFM wanted to offer something special. He would build a temple to Our Lady of Czestochowa if the Holy Father would be healed.  St. John Paul II survived!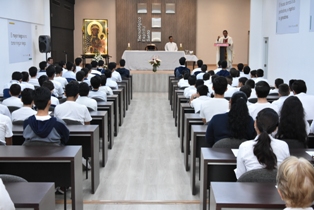 The students of Centro de Estudios Espiritu Santo, Male section, received with great devotion the Pilgrim Icon of Our Lady of Czestochowa on Tuesday, August 13. Some students were elected to attend the Holy Eucharist in Her honor, celebrated by Father Christian Morante, and 20 children gave red and white roses to the Mother of God.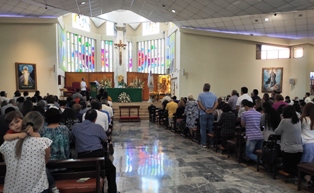 The Pilgrim Icon of Our Lady of Czestochowa arrived at the Parish of Queenship of Mary and remained at the main altar adorned with flowers from August 10 to 13.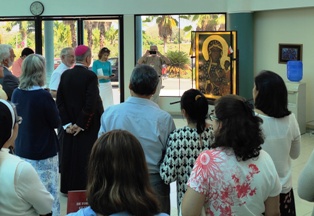 The Pilgrim Icon returned to Ecuador, this time to visit Her children in the city of Guayaquil. Fr. Leon Juchniewicz, Polish missionary, chancellor of the Diocese of Santo Domingo and custodian of the Icon here in Ecuador, arrived with the Pilgrim Virgin of Czestochowa on Saturday, August 10, and as soon as She landed he took Her to the retirement home