With the blessing and invitation of the Orthodox Metropolitan of Vilnius and all of Lithuania, His Excellency Archbishop Innocent, the Icon of Czestochowa, travelling "from Ocean to Ocean in Defense of Life", visited the Orthodox churches in Vilnius on August 9th and 10th, 2012.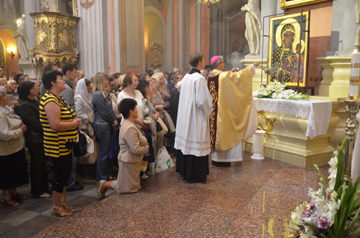 In the afternoon hours, on August 9th, the Icon of Czestochowa had arrived in Vilnius. In front of the church of St. Therese, the faithful gathered in prayer, awaiting the image of the Black Madonna. Everyone arriving at the church could not help but visit the Gate of Dawn – a holy shrine for all the residents in the capital.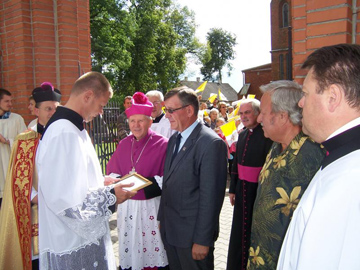 In the morning of August 9th, the Icon of Czestochowa, accompanied by many vehicles, arrived from Kaunas to Kaišiadorys. At the edge of the town, many people awaited the holy Icon in their cars marked with flags and pro-life banners. The motorcade passed through the city center, escorted by the police. Our Lady entered the cathedral square accompanied by the ringing of the church bells.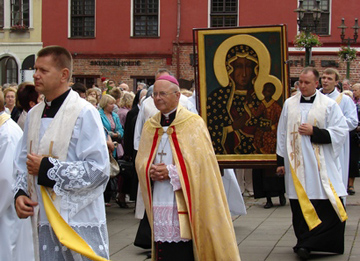 On August 8th, before 11:00 in the morning, nearby the Chapel of the Annunciation in Šiluva on the border of the Archdiocese of Kaunas, Our Lady of Czestochowa was being greeted by Sigitas Tamkevičius SJ, the metropolitan of Kaunas, assisted by several priests.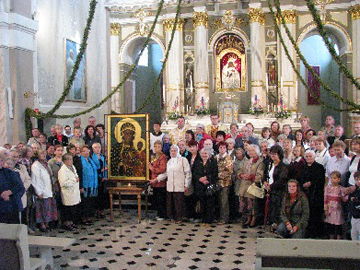 Early in the morning, on August 7th, the Icon of Czestochowa arrived from Šiauliai at Kuršėnai, where she was being awaited by the representatives of the Family Center in Tėlsai and the parishioners of St. John the Baptist Parish. The scouts brought the Icon into the church. In this manner, Our Lady began her visit in the Tėlsai Diocese, in Lithuania.