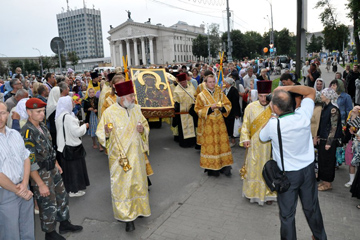 To Homyel on July 21, Our Lady came assisted by the road service, motorcycle club "Night Wolves" and a portable bell tower on an open car. She was personally welcomed by the Orthodox Bishop of Homyel and Żlobin - Stefan, who presided over the solemn singing of the Akathist to the Mother of God in the Orthodox Cathedral of Peter and Paul (Sobor Kafedralnyj Petropawłowskij).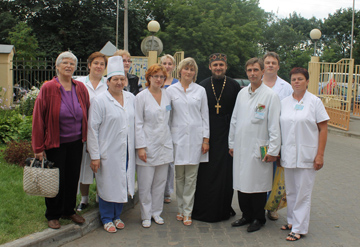 On July 20 the Czestochowa Icon, escorted by column of cars drove to Mogilev. This time the people met her in front of the municipal hospital, which houses an abortion clinic where children are killed in their mothers' wombs. Carrying the Icon of Our Lady of Czestochowa, a group of about 200 people, together with representatives of the hospital administration and physicians, circled around the entire hospital building praying fervently for the pro-life intention.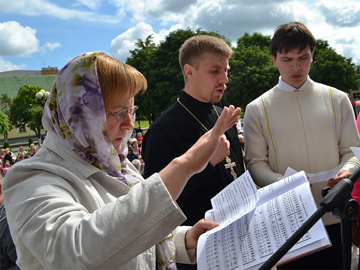 Borisov hosted the Mother of God on Thursday, July 19. The city and district authorities, the priests of the Orthodox Church and a great crowd of people, children and youth greeted the Czestochowa icon at the main town square before the Municipal Palace of Culture. The car with the icon was preceded by a pickup truck equipped with portable bells and a group of people playing on them. This immediately created an amazingly holy atmosphere.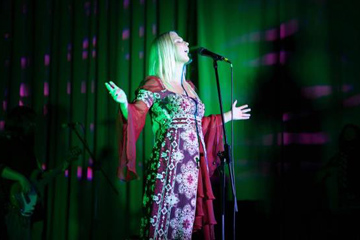 On the next day, 18 July, during a stop in Minsk, the famous Russian singer Pelageja (Pelageya) and her band gave a concert to celebrate the pilgrimage through the world in defense of life "From Ocean To Ocean". A meeting was opened by Father Pawel Serdiuk, who coordinated the pilgrimage in Belarus.