Szczecin received Our Blessed Mother in the Czestochowa Icon extremely hospitably. There were many meetings, little time, and everywhere very many, many people.
On August 15th, at 16:00 (4:00 p.m.), Our Blessed Mother had entered the territory of the Archdiocese of Szczecin-Kamień. In the middle of the road junction in Ginawa, Archbishop Andrew Dzięga, the Metropolitan Archbishop of Szczecin-Kamień, greeted Our Lady, kneeling at the border of the archdiocese.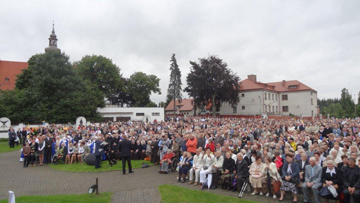 Everyone was waiting for the Blessed Mother at the Shrine of Our Lady of Sorrows, where a beautiful and very old statue of the Pieta adorns the church. The peregrinating Icon arrived here to greet the Kashubians.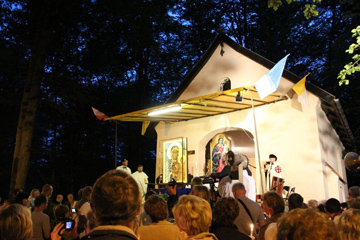 On Tuesday evening of August 14th, on the Eve of the Solemnity of the Assumption of the Blessed Virgin Mary, the Icon of Our Lady of Czestochowa had arrived at the Passionist Marian Shrine in Wejherowo.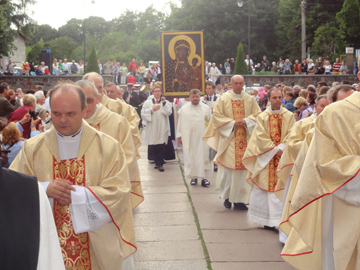 With these words, the Archbishop Sławoj Leszek Głódź, the Metropolitan Bishop of Gdańsk, greeted the peregrinating Icon of Czestochowa "from Ocean to Ocean" in defense of life at the Cathedral of Oliwa. He began the prayers with the renewal of the "Act of Entrustment" and presided over the solemn Mass concelebrated by Archbishop Emeritus, Tadeusz Gocłowski, as well as fifteen priests of the Diocese of Gdansk.