After several hours of waiting at the Belarusian-Latvian border, the Czestochowa icon arrived in Latvia as planned on July 28, in the company of Fr. Andrew Steckiewicz of Minsk. Orthodox Archpriest Pawel Serdiuk, coordinator of the pilgrimage in Belarus, was especially helpful in facilitating the border crossing.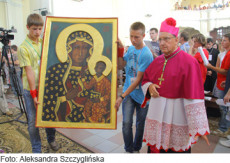 Several hundred young people from all the  Catholic dioceses of Belarus came to Ivianiec on July 27 for the meeting of Catholic Youth of Belarus. This year the theme of the meeting is: "I am a knight of the Gospel" in reference to the 90th anniversary of the visit to Grodno by St. Maximilian Kolbe, who is a patron of Belarusian youth.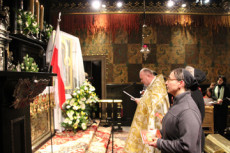 Dear Brothers and Sisters,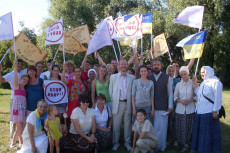 On Wednesday, July 25 the Czestochowa icon arrived from Sum - eastern Ukraine to Kiev. Our Lady is in Ukraine at the invitation of the Orthodox Metropolitan Vladimir Moscow Patriarchate.
At approx. 15:00 for the first time organized in Kiev, a car rally in defense of life started. It was attended by approximately 40 cars and about 80 people who have for years been involved in the defense of life.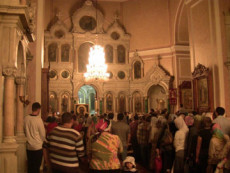 On July 23, the Icon of Our Lady of Czestochowa, crossed the border of Ukraine. There were problems. Belarusian customs did not want her to leave Belarus for several hours despite of the fact that all papers were OK. After several interventions, and nerves in the end at 17:30 the Icon entered Ukraine. It got so late that plans had to change and disappointed people in a remote town of Sumy, who were waiting for the Mother of God, had to go home.