The pilgrimage of the "Black Madonna" continues through Riga. She spent the night of 1-2 August in the church of St. Mary Magdalene in the Old Town. After Mass, the pastor announced that the church would remain open as long as people continued to pray. It was open all night; adoration lasted the whole time and the number of people did not diminish.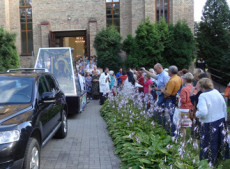 As the pilgrimage of the Czestochowa Icon continued in Latvia, we are observing increasing interest. The meetings are drawing crowds and there is growing interest in the media. The Mother of God was greeted in the Roman Catholic Church of The Holy Trinity in Riga on Wednesday morning. The pastor, seeing the church full of people, although it was early morning and a work day, joked that only the Mother of God could bring such crowds to the church.
The altar on wheels, the "Life Mobile ", which was hastily built over the past three months, arrived in Latvia. Our Lady of Czestochowa can now travel comfortably and safely under the cover of reinforced glass-windows.
The final touches took extra time.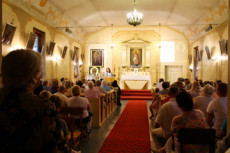 Despite the oppressive heat, the Mother of God in her icon is traveling through Latvia. On the third day of the pilgrimage we encountered our first surprise in the village of Gulbene. Although this is a small parish, nevertheless Our Lady was greeted by three priests in addition to the pastor, but also to our amazement, one other priest joined us in prayer later.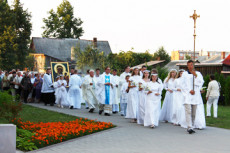 All were astonished by the huge crowds of the faithful, who for half the night were standing in a huge queue in front of Sacred Heart of Jesus Church in Daugavpils to individually pay respects to the Mother of God. In the morning, on the second day of the Latvian peregrination on July 29, the icon visited another parish in the city.