The city of Panevėžis said good-bye to Our Lady of Czestochowa, as the faithful formed a large and noisy crowd with their bishop Jonas Kauneckas at the forefront. Our Blessed Mother began her pilgrimage through little old towns in the Diocese of Šiauliai. The first such quaint town was Šeduva. The Icon was greeted there by the Pastor.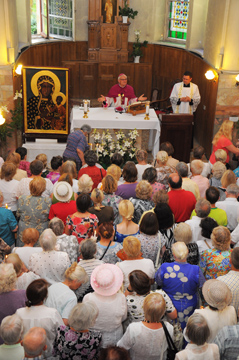 On Monday morning, the 6th of August, on the Feast of the Transfiguration of Our Lord Jesus Christ, the Icon of Czestochowa stopped at the Chapel of the Immaculate Conception of the Blessed Virgin Mary. The small church was already full at 8:00 o'clock in the morning. Father Pavel Andżejevski celebrated Holy Mass and also gave the homily. After Mass, many of the faithful gathered had remained in quiet, individual contemplation before the countenance of the Black Madonna. Afterwards, during the devotional prayers, Father Rimantas Kaunietis reminded the faithful about the history of the Icon of Czestochowa.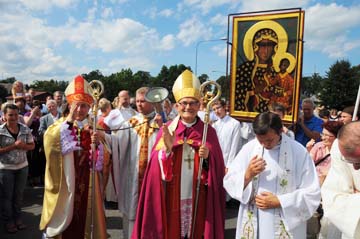 On Sunday, August 5th, the Icon of Our Blessed Mother participated in the feast celebrations of Our Miraculous Lady – the Protectress of Latvian Families in the shrine in Skaistkalne that were led by Bishop Eduard Pavlovski from Jelgava. The Sacrament of Baptism and Confirmation (received by a few younger and older people) was given during the Holy Mass there.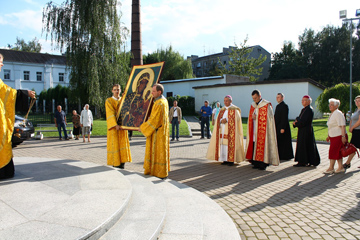 Early morning, on August 4th, Our Lady travelled almost 150 km along the Baltic shore and arrived in the third largest city of the Latvian Courland – Liepaja, known as the "Windy City". The beautiful St. Joseph's Cathedral is located in the heart of the city, close to the market and the tram station.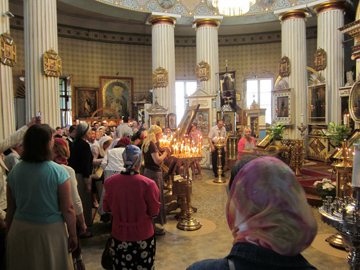 On Friday, 3 August, the Orthodox Church in Riga, at the invitation of Aleksander, Metropolitan of Riga and all of Latvia, hosted the Czestochowa Icon. The Icon visited three Orthodox churches in the center of Riga. A constant stream of people who wanted to venerate the Mother of God, came to the churches.