In the evening of the 12th of August, the Icon of Our Lady of Czestochowa arrived in the Polish city of Białystok, where great crowds of people awaited Her.  The first meeting took place at the Roman-Catholic Cathedral, where the Holy Rosary was prayed.  The great church was filled with the faithful gathered.  The young people led the liturgy, and the scouts kept watch.  The crowds were so numerous that a great number of faithful had to remain outside the cathedral.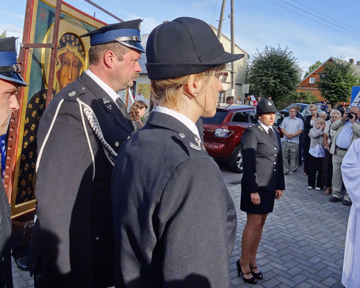 In the afternoon, on August 12th, the pastor with several priests from neighboring parishes and numerous faithful awaited Our Blessed Mother in front of the Catholic church in Suprasl. The motorcyle escort arrived first at the church, the "Life Mobile" with the Icon followed. This time the, the Volunteer Firefighters of Suprasl formed the Honor Guard carrying the Icon into the church. They were not only male firefighters, which we are long used to, but also young women firefighters, who walked alongside the men.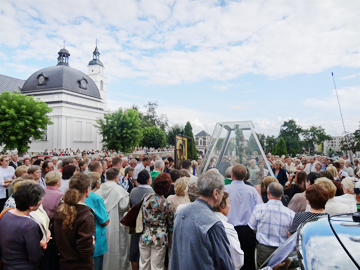 The beautiful church in Sokolka of St. Anthony of Padua has gathered a huge crowd of people who wanted to celebrate the Icon of Our Lady of Czestochowa, on Sunday, August 12th. This parish in Sokolka is known for the Eucharistic miracle that took place there in 2008, when a purified host turned into a small piece of a heart muscle tissue and was confirmed by two independent pathologists and the ecclesiastical commission, waiting to be approved by the Vatican as an authentic miracle.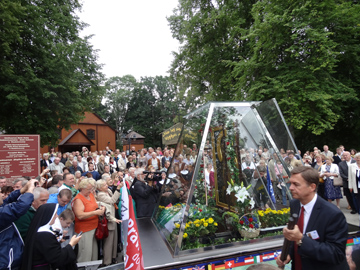 At around 10:00 in the morning, on Sunday, August 12th, the Icon of Czestochowa traveling through the many countries in defense of life had crossed the Polish border. After a touching farewell in front of the Basilica of St. Michael in Marijampolė, the Polish escort took over. At the head of the motorcade rode ten motorcycles from the Rally of Katyn.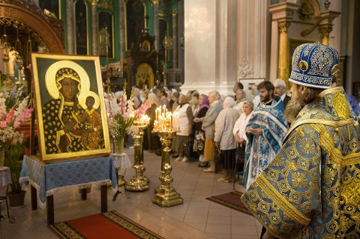 On Saturday, July 11th, in the church belonging to the monastery of the Holy Spirit in Vilnius, which hosted Icon of Czestochowa for the night, Archbishop Innocent, assisted by Archimandrite Vasil Novinsky with the clergy from the monastery and various parishes of Vilnius, celebrated the Divine Liturgy.