In the longest day of the year June 23 the Icon of Our Lady left Krasnoyarsk, Central Siberia.
"Pro-life van" travels now to Yekaterinburg. This is a big city of one and a half million people in the Ural mountains, right on the border of Asia and Europe. It is considered the fourth city in Russia, the so-called reserve capital.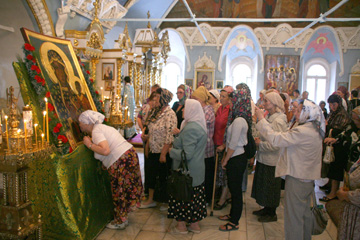 On June 21 the Icon of Our Lady of Czestochowa came to the Orthodox Cathedral of Care at the invitation of Archbishop Panteleimon Metropolitan of Krasnoyarsk and Achinsk. During the welcome ceremony Akathist to the Mother of God was sung.
The Orthodox priests representing Krasnoyarsk church and the local choir presided over prayers.
Our Lady will visit Poland on August 12 - 26. We are building a glassed altar on wheels especially for her in order to comfortably go and be seen in all the towns she will passed. We organize meetings, there is a lot of work.
We have collected nearly one third of the funds needed. Thank you everyone for the gifts of heart, and especially the person who gave a whole 1000, - zloty. for this purpose. This raises hope that we will manage.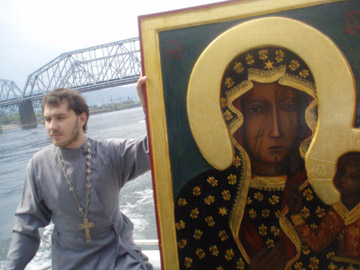 They arrived in Krasnoyarsk on Wednesday, 20 June. Galina and Igor rode the TransSiberian Railroad for 93 hours to get to this large city in central Siberia. Aleksey came by van with the icon several hours later. Since the van sustained damages from driving through potholes, it needed to stop en route for repairs. Galina, exhausted from the journey, made this brief observation: "passenger train, soviet comfort."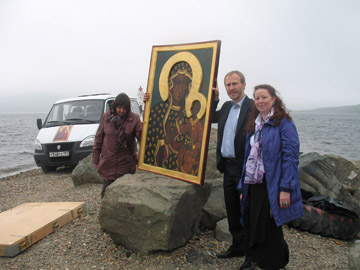 Our Lady of Czestochowa stood at the shore of the Pacific Ocean, symbolically beginning the pro-life pilgrimage "From Ocean to Ocean". Upon conclusion of the meetings in Vladivostok, Our Lady was given a sincere and emotional sendoff, with sorrow and tears at her departure, after the early morning liturgy on 15 June at the Orthodox Church of St. Nicholas. In accordance with the instructions of the International Committee, our friends began their difficult journey from the shores of the Pacific through the lands of Ussuri and Siberia in a "pro-life van".