On the next day, 18 July, during a stop in Minsk, the famous Russian singer Pelageja (Pelageya) and her band gave a concert to celebrate the pilgrimage through the world in defense of life "From Ocean To Ocean". A meeting was opened by Father Pawel Serdiuk, who coordinated the pilgrimage in Belarus.
The next step of the pilgrimage on July 17 was the stay in Baranovichi. A large crowd awaited the arrival of the Icon of Our Lady of Czestochowa both in the street and in the Orthodox Church of the Protection of God (Pokrovskij Sobor). The Archbishop of Pinsk and Luninec - Stefan personally presided at the Divine Liturgy.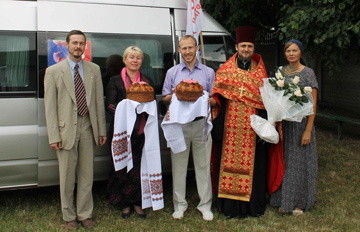 Letter from Wladek Wolochowicz on route with the Blessed Mother through Belarus
Dear Friends,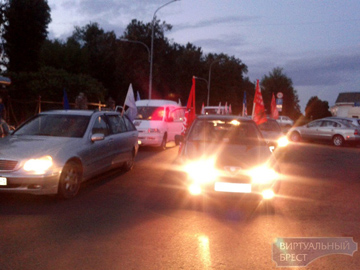 On July 16th the Icon of Our Lady of Czestochowa reached Brest in Belarus. On the outskirts of the city young people from a Belarusian Orthodox youth fraternities organization was waiting for her. With great joy they formulated a column of cars, marked with colorful pro-life banners and flags. After a time with sounding horns and lit headlights Our Lady was escorted to the city center.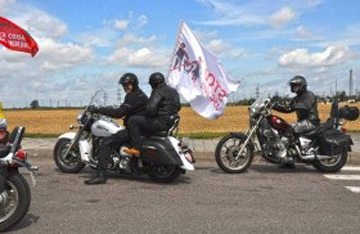 Grodno hosted solemnly the Czestochowa icon on July 15 and 16. Back 20 kilometers before the city motorcyclists from Grodno motorcycling club, "Rhinoceros" waited for her. It was really something new. The participation and enthusiasm of these young men and women on bikes were moving.