On May 20, Orthodox defenders of life in Moscow organized a fourth car manifestation in defense of life "Stop Abortion". It was attended by hundreds of people and dozens of cars. The meeting began in the Orthodox Church of Annunciation of the Blessed Virgin Mary in the center of Moscow with a prayer before the peregrinating Czestochowa icon.
On May 9, just before the International Day of the Family, Our Lady in her Czestochowa Icon arrived in Moscow, in her pilgrimage through the world in defense of life. She came from Minsk in the company of a Belarusian delegation led by Father Paul Serdiuk and Igor Beloborodov, coordinator of the Eastern part of the pilgrimage. Father Maxim Obukhov, for many years President of the biggest Russian national pro-life movement, presided over the official welcoming.
Leaders of pro-life movements from 18 countries met on Saturday May 5th in Czestochowa to discuss the near future when the Czestochowa Icon of Our Lady will travel across Asia and Europe from the Pacific Ocean to the Atlantic Ocean - from Vladivostok to Fatima.
A Pilgrimage "From Ocean to Ocean" of Our Lady of Czestochowa in her icon will begin any time. Now we have to decide how she will travel. Through the Siberian wilderness we definitely need a pickup truck, which is currently prepared by Russia's pro-life leaders. We Poles however, want the icon to be clearly visible when driving through towns and villages, not enclosed in an armored box. So we started the construction of glassed altar-platform on wheels.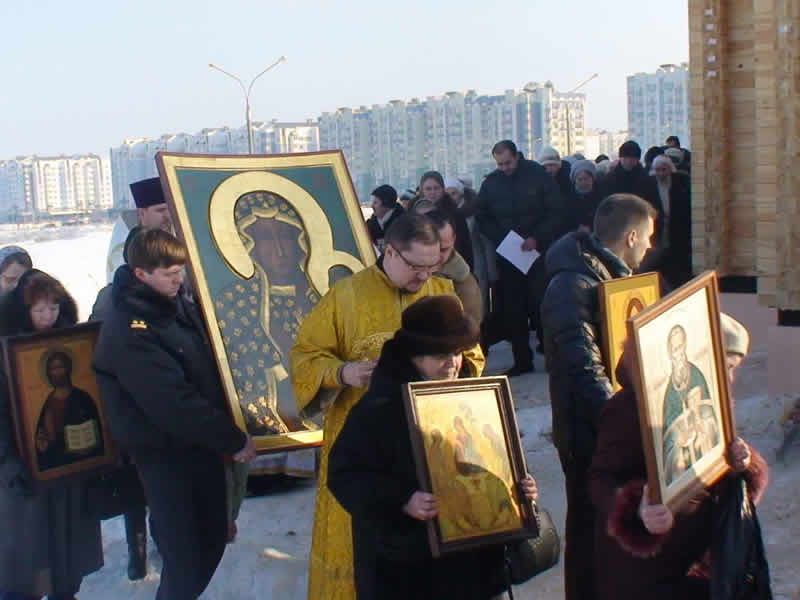 In her peregrination in the defense of life, the Czestochowa icon came to Minsk in Belarus.
Currently she is in the Orthodox Church of St. Nicholas of Japan.
Why was this parish was granted the privilege of hosting the Mother of God in the peregrination icon? Her pastor, Father Paul Serdiuk, is very involved in the defense of life. He is a member of the International Committee of Czestochowa Icon pilgrimage "from ocean to ocean."