Big crowds, emotion, fervent prayer, and even some tears that is how Belarus welcomed the Mother of God. On July 13 the Czestochowa icon in her pilgrimage stopped in the historic spiritual cradle, which is the region and city of Polotsk visiting the main churches of the Orthodox Diocese of Polock-Hlubokaje.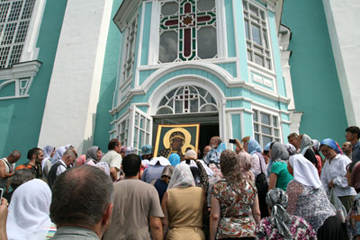 On the evening of July 12 the pilgrimage Czestochowa icon peregrinating "From Ocean to Ocean" through the world in defense of life was formally transferred by the coordinator of the Russian part of the pilgrimage Dr. Igor Bełoborodova to the representative of the Belarusian Orthodox pro-life movement, Fr. Paul Serdiuk.
On July 5th accompanied by ringing bells the pilgrim Czestochowa icon was brought to the Orthodox church of the Transfiguration of the Savior on the historic old market (Spaso-Preobrazhensky Sobor - Starojarmarchny) in Nizhny Novgorod.
The church is situated on the left bank of the Oka river where it is flowing into the Volga river. Its establishment in the late nineteenth century was associated with one of the largest markets in Russia. During the Bolshevik persecution after the October Revolution it was converted into a warehouse. Only in 1991 The church become a temple again, and until 2009 also served as a cathedral.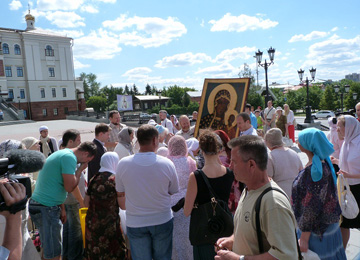 "Pro-life van" - a car which is traveling with the icon of Our Lady of Czestochowa, in the evening of June 25 arrived to Yekaterinburg in the Ural mountains. On her way from Vladivostok by Ussuryjsk Country and Siberia she covered already about 7.5 thousand. km. Thus, the Asian part of Russian pilgrimage "From Ocean To Ocean" has taken place. Arrived safely and on time, but three times it was necessary to repair the car after flying over extra holes on the road.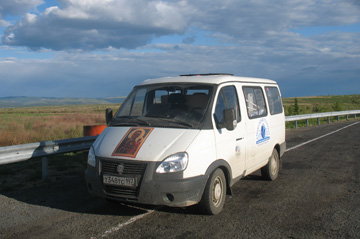 In the longest day of the year June 23 the Icon of Our Lady left Krasnoyarsk, Central Siberia.
"Pro-life van" travels now to Yekaterinburg. This is a big city of one and a half million people in the Ural mountains, right on the border of Asia and Europe. It is considered the fourth city in Russia, the so-called reserve capital.