The arrival of Our Lady of Czestochowa the "Black Madonna" and the Mother of St. John Paul II in Latin America means that millions of families will come to venerate Mary, Mother of God and all men. She brings to Mexico the message of mercy, courage and commitment to build the civilization of love and life.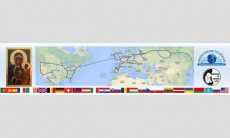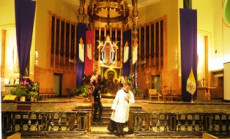 At the evening Sunday Mass November 30, at Our Lady of Mercy Parish in Chicago, the faithful  gave devotion to Our Lady of Czestochowa before she travels to Mexico to greet Our Lady of Guadalupe.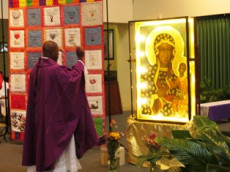 On Sunday, November 30th, Our Lady of Czestochowa arrived at the church of the Holy Angels in Bronzeville, Chicago. With great enthusiasm and joy, this noteworthy congregation received the holy icon. This place is famous nationwide for the work of Fr. George Clements who years previous spearheaded the building of a new church and developed an excellent school. Now, Fr. Andrew Smith, a former Chicago police officer, is the pastor.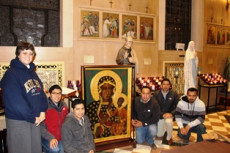 On Friday, November 28, in Mundelein, Illinois, the Ocean to Ocean pilgrimage team brought our icon of Our Lady of Czestochowa to the National Shrine of Fr. Maximilian Kolbe. A group of faithful men from Our Lady of Mercy Parish in Chicago, Illinois lovingly brought  the icon into the Shrine and offered special prayers seeking the intercession of Fr. Maximilian Kolbe for our upcoming trip to Mexico.