Fr. Theodore Hesburgh, C.S.C., President Emeritus of the University of Notre Dame greeted the icon of Our Lady of Czestochowa on Thanksgiving Day at the Holy Cross Retirement Center on the campus. Fr. Ted is world renown for his leadership over the course of decades at the university. His personal priestly example and dedication to many causes, especially Civil Rights, was extraordinary.
Along with Fr. Ted is Bro. James Lakofka, C.S.C.  both are the most senior members of the Congregation of Holy Cross.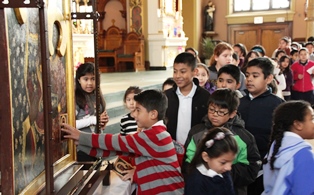 The Black Madonna arrived in Chicago for the second time. This is a very special, as the peregrination is a chain of meetings and the rule is not to visit any place twice. Some people even joked that Our Lady loved Chicago so much that She decided to return.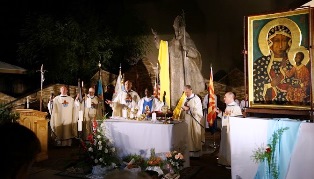 PHOENIX, Arizona – November 3, 2014 –Logging some 50,000 miles across North America in defense of life, the Black Madonna recently concluded a 14-month global prayer pilgrimage in Phoenix, Arizona. An outdoor Mass attended by 1,000 faithful was held on Saturday, November 1, 2014, at Our Lady of Czestochowa parish in Phoenix, Arizona.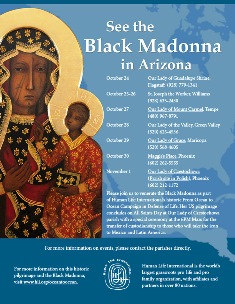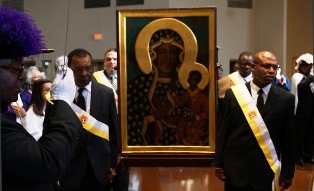 As we set off for Las Vegas with the Black Madonna, the picturesque southwestern desert joining California and Nevada offered a peaceful backdrop of reflection on the journey of the historic Ocean to Ocean Campaign in Defense of Life. Wherever we travel, the Pilgrim Icon of Our Lady of Czestochowa has strengthened the faithful in their resolutions to defend life and family.