The pilgrimage of Our Lady of Czestochowa  across Mexico has lasted almost a year now. During this time the Icon visited many places and churches which are very important for the Mexican people. However Our Lady  of Czestochowa has always been coming back to Her headquarters which is the church of St. John Paul II and St Thomas More.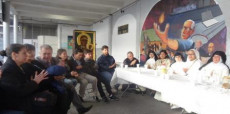 From the 5th to 7th November 2015 the Organizing Committee of the Peregrination held its meeting in the capital of Mexico. It was attended by the representatives of Mexico and Colombia, as well as Marcela and Peter Dobes, and international coordinators Ewa and Lech Kowalewski from Europe.

This time in the new basilica of the Guadalupe Shrine, where the famous image of Our Lady is housed, the Holy Mass was celebrated on the 5th of November 2015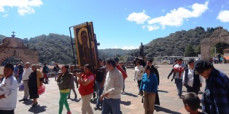 It has been almost a year Since the Częstochowa Icon started Her pilgrimage in Mexico. During this time Our Lady has visited many important and famous places,e.g. San Luis Potosi. Thousands of people have come to pray before Her.