The Black Madonna traveled on a very hot and dry afternoon to St. Mary Catholic Church in El Centro on September 4. The desert town borders Mexico, just across from Mexicali.  Father Ed Horning pastors a large Hispanic population at St. Mary's.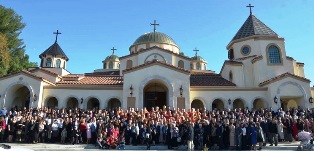 Our next destination was St. Andrew's Orthodox Church in Riverside, where another Akathist service was prayed September 3. Processing into the church with the Pilgrim Icon of Our Lady of Czestochowa while the Akathist was sung with more than 160 in attendance, including several young families, brought such joy!  The choir's sung prayer of the Akathist was exceptional.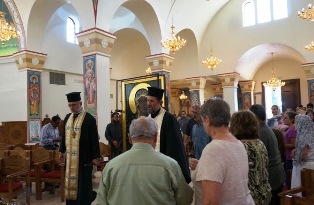 Annunciation Byzantine Catholic Church
, a large and beautiful church established in 1969 in Anaheim, California, started as a mission parish that combined St. Mary's in Van Nuys and St. Nicholas of Fontana. Evident today is a parish embracing a strong liturgical life and vibrant religious education programs for adults and children.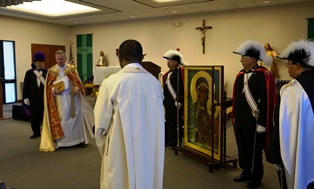 On last stop before leaving the San Diego area was the Missionaries of Charity in National City. We gathered at the convent to preach about the icon and give the nuns an opportunity for veneration.