Ever since the From Ocean to Ocean Campaign in Defense of Life began in the Summer of 2012 in Vladivostok, Russia, the pilgrimage has encouraged the faithful to seek the intercession of Our Blessed Mother and has implored prayers from members of the Church, especially consecrated religious.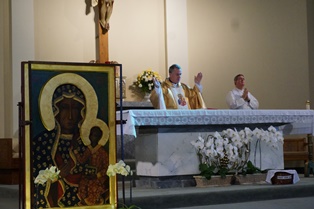 On the feast day of Our Lady of Czestochowa, August 26, we brought her to the Missionaries of Charity Contemplative Sisters in Los Angeles. Our evening destination was St. Rose of Lima Church in Simi Valley, a popular tourist destination because of the adjacent Ronald Reagan Presidential Foundation and Library.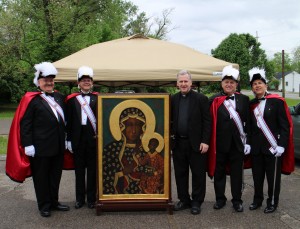 Some might consider it just a series of coincidences; however, others believe it to be Divine Providence.
When Father Peter West, Vice President of Human Life International, traveled to Sharonville, Ohio this past May, he didn't travel alone.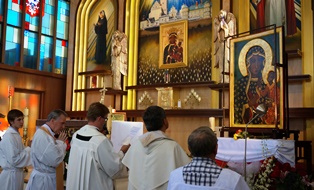 The Black Madonna had arrived at the Church of Our Lady of the Bright Mount in Los Angeles, CA in the evening of August 22nd, 2014. The pastor, Father Rafał Dyguła, SChr, is with the Society of Christ, a worldwide apostolate with an emphasis to care for the spiritual needs of Polish immigrants.
With many tales of devotion brought to our attention along the way, we continue the peregrination of the Pilgrim Icon of Our Lady of Czestochowa to St. John the Baptist Church in Costa Mesa on August 22.