The Pilgrim Icon of Our Lady of Czestochowa returned to the Los Angeles area to visit Holy Family Church in Glendale.  She was present for an evening Mass on Tuesday August 12 and Fr. West gave the homily; thereafter there was a holy hour with the recitation of the Rosary.  Fr. West invited those attending the Mass to join the Black Madonna in a prayer vigil to end abortion at Family Planning Associates in Glendale.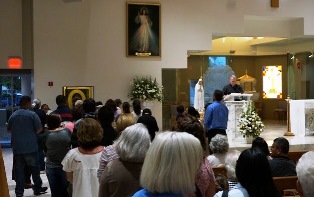 There is a vibrant growing Hispanic and Filipino population St. Peter Chanel Church in Hawaiian Gardens, CA, church staffed by the Oblates of the Virgin Mary.  Fr. Larry Darnell and Fr. Ed Broom greeted us upon our arrival on August 11 and Fr. West gave the homily during a noon day Mass he concelebrated with Fr. Broom that was well attended with over 200 people.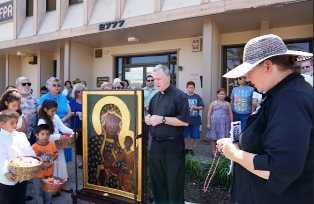 When our entourage traveled through Southern California, Long Beach's Church of the Holy Innocents was our first stop on August 9. We brought the Pilgrim Icon of Our Lady of Czestochowa to Family Planning Associates Medical Group and Planned Parenthood for a prayer vigil with approximately 100 pro-life faithful. It never ceases to amaze me the power of our dedicated pro-lifers.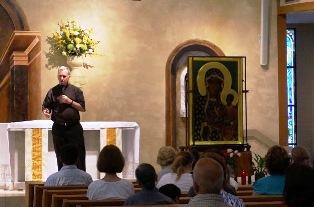 The short drive to St. Joseph's Church resulted in another successful turnout of pro-life parishioners who showed immense devotion to Our Lady of Czestochowa. I concelebrated the evening Mass with Father Mark Wagner, spoke about the historic pro-life Ocean to Ocean campaign, led the Rosary, and provided ample time for veneration afterwards.
After Sonora in nearby Modesto, it seemed only natural that we visit Gifts of Faith, a store selling religious goods and icons to support Mary Mother of God Mission Society. The society's mission is to revive the Catholic faith in Eastern Russia and support the consecrated religious who work in Vladivostok, Russia -- the place where the Pilgrim Icon of Our Lady of Czestochowa started her historic world pilgrimage in 2012.