The priest's duties are fulfilled here by Fr. Jorge  Villaroel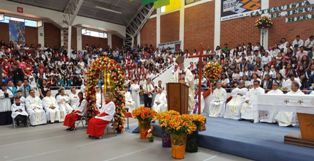 On February 17, the XIX Archdiocesan Day of Catechists was held in the Coliseum of the Pontifical Catholic University of Ecuador, in the city of Quito. The motto for this event was: "Catechist, called by Jesus to awaken the vocations in his brothers",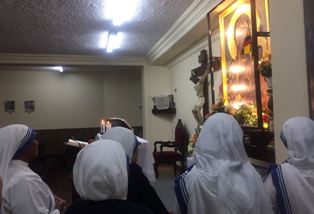 The elderly women's home of St. Joseph, run by the Missionary Sisters of Charity of St. Teresa of Calcutta, received the Icon of Our Lady of Czestochowa. This home is in the parish of Tumbaco, 14 kilometers from the city of Quito. Usually approximately 25 old ladies live here. They had the joy of being in presence of Our Lady in the Icon and of learning her history.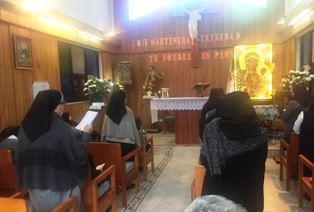 Outside the city of Quito, in the parish of Tumbaco, there is a retreat house for the elder sisters of the Congregation of Divine Providence. The Icon arrived on Sunday night and stayed for three days.

Continuing the pilgrimage of Our Lady in Her Icon of the Virgin of Czestochowa in Ecuador, the parish of Jesus the Good Shepherd received Her with great joy. The Conventual Franciscans are the shepherds of this parish.
Fr. Michael Paga, pastor of this parish, is a Polish Franciscan who knows very well the meaning of the Icon, which is why the parishioners were attentive to his teachings. Fr. Michael has been in the country for 19 years, having previously worked in eastern Ecuador.