With great clamor and very excited, the parishioners received the Icon of Our Lady in the Parish of Christ the King and Immaculate Conception. The dean of the place, Fr. Victor Saragosin, accompanied Her every day.
On Sunday, June 11, the Icon of Our Lady of Czestochowa arrived at the Parish of the Mother of the Good Shepherd, in Nanegal. Here She was received with great joy by the residents who gathered in the Nanegal Educational Center where they began the visitation by crossing the central park, walking two kilometers to the parish church.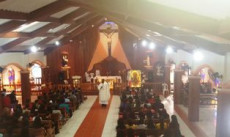 The faithful of St. Vincent Ferrer Parish in Mindo received the Virgin with great joy and devotion. The Icon arrived on Friday, June 9, and stayed  until Sunday, 11th. For Fr. Jean Baptiste Fils the parish priest it was a good experience that greatly encouraged the Marian devotion of the parish. "It has been a great experience with our Mother," he said.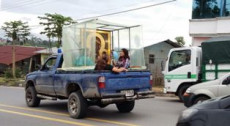 The parishioners went to the previous parish to receive the Icon and took Her to their own Church of Saint Michael Archangel in Los Bancos. She stayed here for the weekend. On Monday She was transferred to the St. Barnabas  district.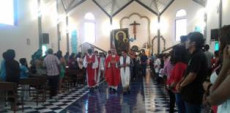 The tour of Our Lady in Her Czestochowa Icon reached the parish of the Our Lady of Cisne, in the village called Celica. It is interesting to know that Celica is also a place in the province of Loja the southernmost part of Ecuador. Group of Lojanos came to this area and settled here.