Feast of the Annunciation on March 25 falls exactly nine months before Christmas. Ecuador also celebrates the Sanctity of Life Day. This year for the March for Life Ecuadorians invited their special guest - Our Lady of Czestochowa  who just arrived in Santo Domingo de los Colorados.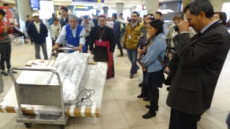 At the airport in Quito - the capital of Ecuador - Bishop Danilo Echeverria, surrounded by a large group of airport employees and leaders of pro-family and pro-life organizations, waited for the arrival of the Icon of Our Lady of Czestochowa, traveling the world "From Ocean to Ocean".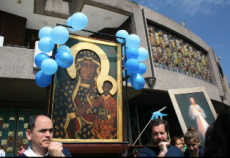 Journey of Czestochowa icon through Mexico is coming to an end. The third stage of the pilgrimage lasted the longest - 2 years and 3 months. Our Lady visited successive cities and parishes. Mexico is a big, vast country with 122 million inhabitants and an area of almost 2 million square kilometers.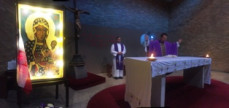 The blessed Icon of the Virgin of Czestochowa, travels the world "From Ocean to Ocean" carrying the message of hope live and life, is about to end her tour of Mexico.
The Mother of God, in her Icon of Czestochowa, will soon come to Ecuador. She travels the world from Ocean to Ocean carrying a message of defense of life and family. Maria has been visiting our Mexican brothers for more than two years, and from Mexico She jumps to Ecuador to begin Her journey through South America.